Remember chatting with your friends about how it's been days since you last pooped? Of course not, because no one's ever had that conversation!
Constipation isn't a topic most of us want to discuss. And yet as many as 63 million Americans suffer from regular constipation. It's a common problem.
This National Institutes of Health describes constipation as a condition in which you have fewer than three bowel movements in a week.
And when you finally do have some luck in the bathroom your stools are hard, dry and difficult, or even painful, to pass.
If you're having poop issues, life just isn't as fun as it should be. You feel bloated, heavy and (if you're anything like me) cranky.
No one wants to trudge through the day with what feels like a pile of bricks in their belly.
Fortunately, as with nearly every aspect of our health, constipation can largely be managed through lifestyle choices.
In this article we'll examine 8 foods to avoid if you're trying to overcome a poop problem.
More Fiber = More Flushing
When it comes to diet and constipation, most of the talk is focused on the things you should eat.
Fiber-rich foods like leafy green vegetables, artichokes, legumes, apples and peaches will all help to get things moving through your digestive system.
How much fiber you should consume depends on your unique needs. But the Mayo Clinic recommends 25 grams of daily dietary fiber as a good target for women, while men should aim for 38 grams per day.
Unfortunately, most Americans consuming only 16 grams of fiber per day — far below the recommended amount. No wonder so many of us are constipated! [1]
Eating enough fiber is definitely a smart way to manage constipation.
But just as there are foods that help with constipation, there are also some surprising foods you'll want to avoid.
8 Foods That Cause Constipation
When we think of what causes constipation obvious culprits like not eating enough fiber, not drinking enough water and not getting enough physical activity all spring to mind.
But some less-well-known causes of constipation include the following eight foods. If you struggle to stay regular, then you'll want to make sure to keep these foods off the menu.
1. Dairy
Dairy products like cheese and milk can make your digestive system as backed up as a Los Angeles freeway during 5 o'clock rush hour. The National Institute on Aging cites dairy products as a food group that can trigger constipation particularly in adults 50 years old and better. [2]
2. Red Meat
Nothing like sinking your teeth into a big, juicy steak, right? Problem is, red meat can be a major contributor to constipation. Blame it on red meat being a high-fat, low-fiber food as well as a rich source of iron. Although iron is essential for your health, too much iron in your diet can cause constipation.
3. Bananas
If you raised an eyebrow in disbelief at bananas landing on a list of foods to avoid for constipation, I don't blame you. After all, chances are your grandma gave you a banana or two as a kid to help you go. Here's the deal with bananas and bathroom success: ripe, yellow bananas are a great source of fiber and will indeed get your bowels moving; on the other hand, under-ripe, green bananas are packed with starch, and that can make your constipation worse.
4. Coffee
As with bananas, this one needs a little explaining. Coffee can affect certain tissues in your digestive system that stimulate bowel movement. For many people (myself included), a coffee break almost always leads to a bathroom break. But the caffeine in coffee can also cause dehydration and that can lead to constipation. So if you regularly imbibe a cup (or two) of joe and are having a tough time going, it might be a good idea to cut back.
5. Sugar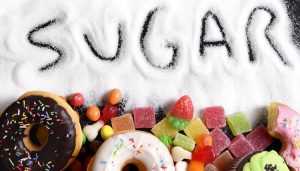 Sugary foods like cakes, cookies and candy are typically high in fat and low in fiber — a surefire equation for constipation. Other good reasons to cut back on sugar: faster fat loss, improved overall health and a lowered risk of heart disease. 
6. Fast Food
Fried chicken, burgers and other fatty, greasy foods that get served to you in a bag are BAD NEWS for your digestive health. Not only will they cause pounds to creep onto and cling to your midsection, but they're soaked in fat and that can slow down the digestive process.
7. Brown Rice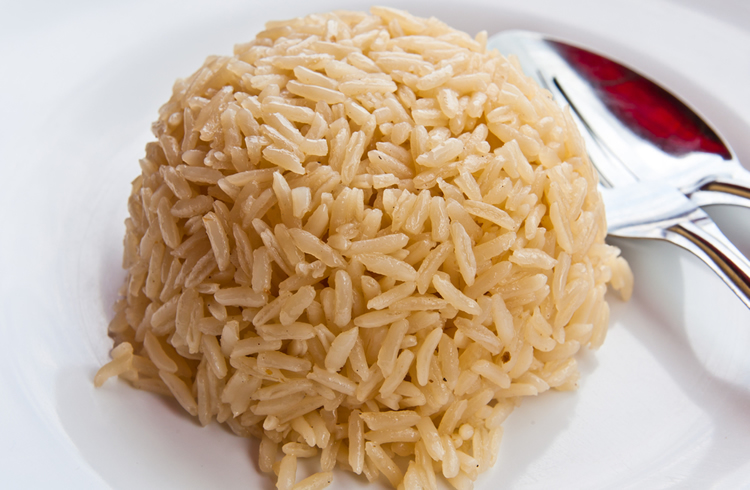 Brown rice has a higher value of fiber than white rice, so making it harder to digest but much healthier for you than white rice. Many people intake too much fiber which leading to constipation issues. Be sure to watch how much fiber you take in a day so you do not have too much!
8. Alcohol
As with coffee, alcohol can cause dehydration and that leads to constipation. When enjoy a glass of wine or beer in moderation, it's a good practice to drink one glass of water for every alcoholic beverage you consume. That way you're helping to offset the dehydration brought on from alcohol.
We're not saying you should swear off these eight foods forever.
But, if your trips to the bathroom are few and far between, it may be a good idea to sideline these 8 foods until you're more regular.
And if you're concerned about constipation, there's one more thing you should know…
Discover the safe, all-natural way to flush up to 20 pounds of toxic poop from your colon… and get a noticeably slimmer stomach WITHOUT diet or exercise.
Click HERE for the full story.